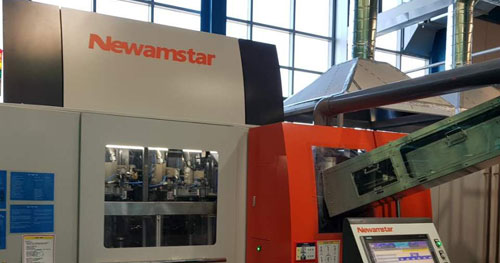 The 2018 Pyeongchang Winter Olympics in Korea, made the world remember Pyeongchang County in Gangwon. Gangwon in Korea is a province in the northeast area. It is famous for scenic spots like natural scenery and hot springs, as well as being a place that can make people feel warm and intoxicated. Gangwon Deep Sea Water Company is located in this area as well.
Gangwon Deep Sea Water Company is located in the northern part of Gangwon province, along the Sea of Japan, with its back against Mount Kumgang. In PET bottled water industry in Korea, it is a young and dynamic company registered in 2006, while its ocean engineering and land engineering completed in 2008. Gangwon PET bottled water officially came into the market in 2009. The reason we mentioned about the ocean engineering is that the water produced by Gangwon company is not just the ordinary drinking water or natural mineral water. The raw water comes from 650m deep sea about 6km away from its factory. After being transported to water treatment plant through water pipes installed in deep sea, desalination and other treatment and packaging will be made.
According to experts' research, there is no water pollution in deep sea because of no direct sunshine or plankton. The pure water, advanced processing technology, and unique marketing concepts make an unusual development way for Gangwon company.
Excellent product quality, modern production facilities, and standardized management contribute a lot to Gangwon's success. It was certified by FDA and IBWA in the second year after being a public company. It also has different marketing method compared to traditional offline sales, which is to get registration online and make door-to-door delivery. The unique product and special sales method make Gangwon water extremely popular in the industry and being the officially designated water for the 2010 G20 Summit.
The successful products are produced by customized automatic production line from Newamstar. In 2008, Newamstar and Gangwon signed the contract of ordering one 24000BPH automatic PET bottled water production line, including blowing machine, filling machine, and other secondary packaging machines such as palletizer. Both two parties worked together and completed the installation and commissioning, put products on market as scheduled.
Newamstar has always been guided by technological innovation, and kept increasing investment to R&D, making continuous innovation and upgrading of products. The close cooperation between Newamstar and BUMYANG group also improves the service quality and increases market share in Korea. Newamstar has also built deeper relationships with ULLEUNG-DO, SANSU, COCA COLA, HYATT and other famous companies in Korea.
In 2016, Newamstar sent invitations to Gangwon management and technical team. During that time, they not only saw the China's first 72000BPH PET bottled water combi production line running smoothly in customer's site which built by Newamstar, but also visited Newamstar's R&D center and manufacturing base. The visit made them feel a lot and the rapid development of Newamstar reminded them of the development of China's high speed train. They not only have great confidence about the future cooperation with Newamstar but also have confidence about China's market, which they want to get rely on in order to better and faster develop company's business.
In 2017, Gangwon Deep Sea Water Company started the project phase II. Based on long-term cooperation relationship, Gangwon chose Newamstar as its supplier for the new line of 24000BPH blowing-filling-capping combiblock turnkey production line. In order to ensure customer's production plan, Newamstar delivered the whole set of machines and sent installation and commissioning team to the site in time. Even in Chinese New Year Holiday, the most important time during the year for people to get union with family members, Newamstar engineers worked day and night, completed the installation and commissioning work in time, and achieved recognition from customer with excellent machine quality and efficient service.
From 2008 to 2018, ten years' innovation and cooperation make the friendship between Newamstar and Gangwon last longer. The mutual trust and genuine concern for each other become the model as cooperation between enterprises of the two countries. Inheriting the past and forging ahead into future, Newamstar and Gangwon Deep Sea Water Company will seek common development and work together to make brilliant achievement!