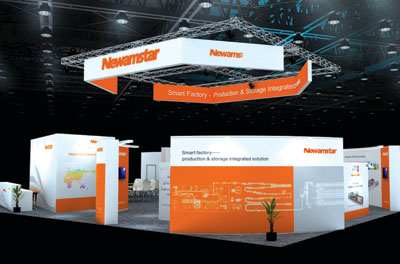 From September 11 to 15, 2017, Drinktec appeared ceremoniously in the German exhibition center of Munich. Global partners shared experience, enhanced understanding, reached consensus, and deepened cooperation to promote innovation and development of beverage and liquid food technologies.
From the influential launch of multifunctional blowing-filling-capping combiblock in drinktec2013 to the perfect display of the seventh generation of high efficiency 80000BPH aseptic cold filling technology of ultra-high speed rotary machine and the integrated solution of production and storage for intelligent factory,Newamstar, China high-end beverage (liquid) packaging machinery expert and leader, has been committed to breaking through itself, to better serving our customers, and creating value for customers.
In recent years, the new industrial revolution featured with digitization, networking and intelligentization is on the rage. New technology, new industry and new models are developing rapidly. Production methods and business models are undergoing deep adjustment. Countries all over the world, especially countries with emerging market are facing unprecedented opportunities and challenges. Newamstar always stands as a pioneer of the industry with leading innovation, promoting the evolution and development of world industry. It improves its level in digitization, networking and automation, providing reliable continuous support for high-end intelligent manufacture, realizing prospective management, whole life cycle management through data analysis, and improving industrial manufacturing efficiency to keep pace with 4.0 era.
All industrial chains march ahead hand in hand while new technologies emerge in an endless stream. In 331 booth of B5 hall, with its "Made in China, Made for world" concept, guided by "integrated smart factory solution" , Newamstar will confidently together with many enterprises around the world for constructing a safer, more efficient, more intelligent, and more green liquid packaging machinery field.