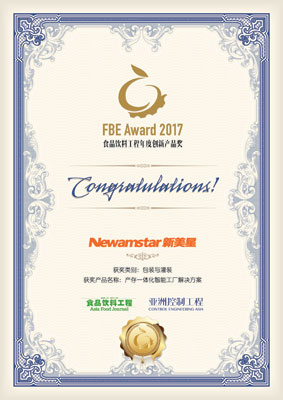 The first day of December witnessed the grand opening of "The Third Food& Beverage Engineering Summit and Annual Innovative Product Award Ceremony in 2017". In the field of processing technology and equipment, packaging and filling, sensing and instrument, electrical automation and information technology, and drive and motion control, 15 innovative products from 15 enterprises received innovation awards. Newamstar, as the only awarded Chinese enterprise, firstly proposed and delivered "the solution for smart factory featuring production and storage integration" in the industry, and it is this very solution that earned Newamstar the "Food &Beverage Engineering Annual Innovative Product Award".
The solution presents the perfect combination of automatic production line, automated storage/retrieval system (ASRS), and intelligent control and information processing system, which can bring high efficiency, energy conservation, and friendly services to customers. Featuring integration and intelligence for liquid food and beverage production, packaging, storage and logistic, the solution can also achieve food traceability, and guarantee quality and safety of food and beverage. With this solution, enterprises in this industry can get even broader development space and strong competitive edge.
Only innovators step forward, only innovators get power, and only innovators become invincible. Newamstar could stand out from this innovation technology selection activity because we followed the innovative trend, united innovative team, and carried forward the development achievement from innovation spirit. Over the years, Newamstar insisted self-dependent innovation, and developed new technology and products that filled industrial gap in China. Meanwhile, Newamstar also tried out an excellent operation and management mode with the core of management by objectives to complete our innovation tasks and missions.
In future, Newamstar, as an industry benchmarking enterprise, will always focus on our main business and play demonstration functions. We will adopt innovation to promote structural adjustment, improve quality and efficiency, and serve customers all over the world. With innovation, we can continuously promote industrial progress, drive intelligent manufacturing process, and contribute more to the establishment of an innovation-oriented country with powerful science and technology.