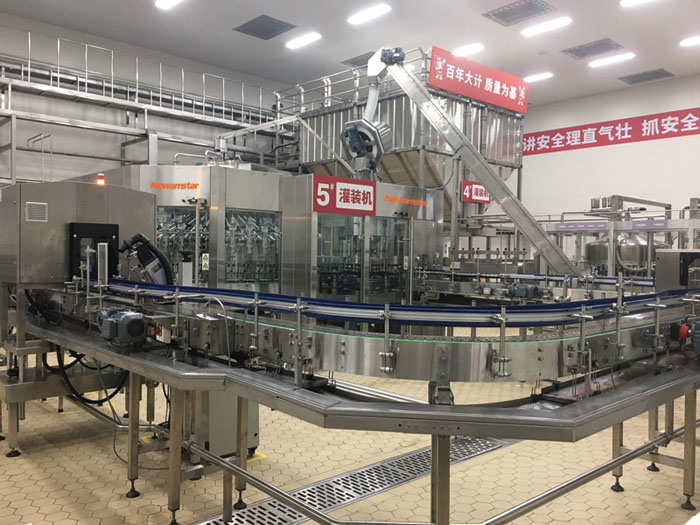 "I love you, you love me, MIXUE Ice-cream and tea." A well-known song quickly spread all over the Internet, and also made the Mixue Bingcheng enter the public's vision in an instant. Today, Mixue Bingcheng not only opens stores in China, but also seizes overseas markets, and its Henan D.co Food Co., Ltd. supported the supply of raw materials for this huge milk tea empire.
D-co company was founded in 2012. In 2019, relying on the rapid expansion of milk tea industry, big coffee started the planning and construction of new production base, and also carried out intensive investigation for the supplier selection of molasses production line. Through several rounds of detailed investigation and exchange, Newamstar has been highly recognized by the D-co company with its rich experience, strong technical strength and excellent product quality of more than 2200 production lines in the industry. The D-co company chose Newamstar to create two 6000 bottles / hour (5L) large bottles of molasses bottle blowing and filling production lines for it.
The big bottle production line customized for D-co has the following characteristics:
1. Automatic production and advanced technology
From bottle blowing, filling, labeling, code spraying, ring pressing, unpacking, packing, interlayer inserting, box sealing, taping, palletizing and film winding, the whole line automation is adopted, which perfectly conforms to the advanced concept of D-co company to build an intelligent factory.
2. Flexible electronic filling, accurate and efficient
Considering the material characteristics of high viscosity of molasses, Newamstar adopts flexible electronic filling technology, which can meet the diversified needs of products. The filling valve is equipped with a servo speed control device, which dynamically defines the filling mode and form to meet the switching of various materials, guarantee the stability of filling, and effectively solve the filling of foamed materials.
3. Intelligent control, lean production
The whole line adopts intelligent management and control system to feed back production and operation data in real time, analyze and deal with faults in time, and generate data reports according to user needs. At the same time, it can realize the preventive maintenance of equipment, monitor the comprehensive energy consumption of equipment in real time, and help users improve the operation efficiency of equipment.
When you walk into the new factory of the C-co company, you will see not only the huge production workshop, but also the brand-new enterprise logo everywhere. It is a cup of milk tea with straw, and a curve just like the arc of smiling lips, which makes people feel warm.
There are seven things to open the door for drinks. Sugar, milk, tea, coffee, fruit and grain materials. The new production line of D-co company has realized digital and intelligent production. From product R&D to raw material procurement, product production and logistics transportation, D-co company is restructuring the whole product life cycle with the goal of being a world-class beverage supply chain service provider. As a partner of D-co company, Newamstar is taking the world's leading supplier of liquid packaging solutions as its vision to realize the dream of "Made in China, Made for the World". I believe that in the near future, the two sides will further lock in new goals, go hand in hand, fight in overseas markets.