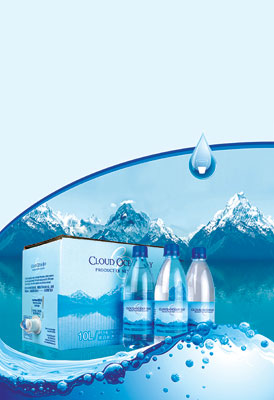 New Zealand, located in the southwest Pacific, consists of two large islands: south island and north island, separated by the cook strait. The south island is adjacent to Antarctica, and the north island is just a narrow strip of water to Fiji and Tonga. Wellington, the capital, and Auckland, the largest city, are located in the north island.
New Zealand has world-class natural pure water featuring no pollution and low hardness. In some areas of New Zealand, natural water is rich in silicic acid, up to 100 mg/litre, which is sweet and very suitable for the human to drink for long time. In New Zealand, there are public drinking water supplies in cities and towns, so people can drink safe and fresh tap water. The essence of heaven and earth here brings fine water, which attract attention of many investors.
With increasingly fierce competition in global bottled water market, the shortage of water resources becomes more prominent. High quality Water resources now is rare source, while consumers still boost their demand for water quality. In order to seize the market, many well-known companies in China are looking for new high-quality water sources overseas. In recent years, New Zealand government has enhanced the protection of natural resources, so authorities have tightened the vetting process for water resources development and export. To obtain exploitation rights for a high quality water source is becoming more difficult, so many investors suffer from this rare right, and they have retreated.
Mr. Ling, Chairman of the Board of Lingyunhai Sugar Industry Group, is a man with vision and action. As the "World King of Sugar", he also pays close attention to bottled water market. After several onsite investigations in New Zealand, Mr. Ling was impressed by the unique natural environment. He benefited a lot from long time drinking of water there, so he hit on the idea to take New Zealand water back and let Chinese consumers taste the world-class water. Through long unremitting efforts, the idea finally worked out!
Just after Lingyunhai Group obtained the water resource exploitation rights, Mr. Ling and his team investigated Newamstar and other equipment suppliers. Through multiple investigations, comparison, and communication, Newamstar finally stood out. In 2017, the two parties signed strategic partnership agreement, and Newamstar provide Lingyunhai Group with turn-key projects of 48000BPH high-speed blowing-filling-capping combiblock line and 1800BPH big bottle combiblock line. The completion of the project also heralds the advent of New Zealand's largest bottled water producer.
Healthy water relieves our drinking. Lingyunhai group and Newamstar cooperate on "Cloud Bay" with the aim to bring higher quality and safer choice to Chinese consumers. Cloud Bay, with New Zealand's essence, will define a new consumption concept. Let's cherish "Cloud Bay".